Studio DiPaolo (Piano, Theory, Composition, Accompanying)

Musician

Teacher
Service Areas
Nashville, Tennessee
West, Tennessee
About Me
CURRENTLY ACCEPTING ONLINE PIANO, THEORY, COMPOSITION, HISTORICAL IMPROVISATION, AND COLLABORATIVE SKILLS STUDENTS ANYWHERE IN THE WORLD!

Praised as a "sensitive pianist" and "outstanding accompanist" who delivers "powerful interpretations," Nicole Elyse DiPaolo enjoys a multifaceted career as a sought-after collaborative pianist, educational composer, arranger, coach, private teacher, and adjunct music professor. Ms. DiPaolo has appeared as a concerto soloist with the Ambassador Chamber Players on multiple occasions (two of which also featured her own Piano Trio in C minor) and as a recitalist, collaborator, and presenter worldwide.

Currently, Ms. DiPaolo is an online Adjunct Lecturer in Music (Music in General Studies) at Indiana University; the Principal Theory Teacher at Liberty Park Music, an online-only video subscription-based music school; an invited blog contributor and guest instructor at Tonebase; and a sought-after online instructor of piano, music theory, and composition. She has additionally been an online teaching artist for the Tunaweza Kimuziki cultural/artistic exchange program+, through which IU instructors teach undergraduate music students in Kenya via Zoom and WhatsApp. Ms. DiPaolo was also on the composition and collaborative piano faculty at Blue Lake Fine Arts Camp in 2014 and 2015. In line with her belief that effective music performance instructors should also be distinguished performers (past or present), Ms. DiPaolo recently appeared with the storied Singers' Club of Cleveland men's choir as their accompanist at the Cleveland Museum of Art's Gartner Auditorium. In June 2018, she was a Collaborative Piano Fellow at the Bay View Music Festival in Petoskey, Michigan, performing with the festival's SOARS voice program participants on fully staged opera scenes and art song recitals as well as in the Bay View Young Artist Series (Charlevoix, MI). She then joined the Spooky Goose Opera team as an online coach/pianist for their Quarantine Concert Series, the world's first livestreamed Zoom production of Mozart's Die Zauberflöte (summer 2020), which was nominated for a Broadway World award, and new opera projects under development.

Recent performing highlights include giving the world premiere of H. Leslie Adams' Grand March for trumpet and piano in the composer's presence, as well as performing several selections at a 90th birthday gala for Dr. Adams; a performance with the Singers' Club of Cleveland at the Cleveland Museum of Art; a Christmas concert with members of the Cleveland Pops; two performances as a substitute keyboardist with the Cleveland Philharmonic Orchestra; solo appearances with Sing for Hope's Healing Arts Initiative, presenting a curated program entitled "The Singing Piano" (May and June 2021); and a virtual appearance in the 2021 Classical Singer vocal performance competition. Other notable engagements include the 2020 Spooky Goose Opera Quarantine Concert Series (5 concerts to date); the 2016, 2017, and 2019 National Society of Arts and Letters Vocal Competitions (multiple entrants); the "Opera Night at North" benefit concert with students of IU's top-ranked opera program (among them "Accidental Tenor" Andrew Lunsford); and two long-term, international cruise ship performing contracts with violinist Amy Lee as the Duo del Mare. Additionally, she recorded an album of unique folksong settings with bass-baritone and IU Kelley School of Business professor Timothy Fort, which is included in his new business ethics text, Vision of the Firm. Among other engagements at IU, she was the rehearsal pianist/coach for a summer production of John Frederick Lampe's little-known Baroque opera Pyramus and Thisbe.

Ms. DiPaolo began formal music study at age 5 in the Detroit area. At age 10 she enrolled in the University of Michigan's preparatory piano program, and she performed her first full solo recital at age 11; additionally, she spent three summer sessions at the All-State Piano Program at Interlochen, where she won awards in music theory and piano literature. Ms. DiPaolo continues to perform while maintaining a private online studio, continuing a teaching lineage that can be traced through Bela Bartok (a great-grand-instructor) to Franz Liszt and Beethoven. Her principal teachers have included Michele Cooker, Louis Nagel, Joanne Smith, and Alan Huckleberry; she has also had the pleasure of undertaking additional coaching with Menahem Pressler, Waleed Howrani, Christopher Harding, Donald Morelock, Philip Bush, John Ellis, and the late Eugene Bossart. She holds a B.Mus in Music Theory from the University of Michigan-Ann Arbor, where she studied piano under Dr. Nagel; additionally, she studied composition with Bright Sheng and basso continuo (harpsichord accompaniment) with Edward Parmentier. Ms. DiPaolo also holds an MM in Music Theory from Indiana University-Bloomington, where she has achieved PhD candidacy alongside a completed doctoral minor in composition (under Claude Baker, Don Freund, P. Q. Phan, and David Schneider) and studies in French and German diction (under Gary Arvin) to complement her frequent collaborations with IU's voice students. Ms. DiPaolo has undertaken more recent piano pedagogy studies with Russian approach expert Irina Gorin, the author of the Tales of a Musical Journey piano method, and is Level 1 and Level 2 certified in Tales. She is currently enrolled in the Royal Conservatory (RCM) online teacher mentorship program administered by Jonathan Roberts, and she regularly seeks such professional development opportunities in order to grow as a pedagogue.

When not on the piano bench, Ms. DiPaolo continues to compose and arrange, and her compositions have been described as "very effective" with a "fantastic amount of intrigue," "mindfulness...[and] colorful nuance" (Seven Sky Music). Ms. DiPaolo's music has been heard across the world. Along with numerous performances in the Midwest, her commissioned song settings of Muscogee poet laureate Alexander Posey's texts have been performed nationwide, and the Smithsonian Institution procured copies of two of these (Nature's Blessings and A Vision) to archive at the National Museum of the American Indian. Ms. DiPaolo's music also received its Mexican premiere in 2013 with a performance of her Divertimento, written for the International String Quartet of Yucatán. In 2014 Ms. DiPaolo published a set of twenty short pedagogical pieces in uncommon keys, entitled Venturing Beyond, for early-intermediate pianists of all ages, available on SheetMusicPlus and MusicaNeo, and she recently completed Vignettes, a new set of pedagogical pieces that will introduce intermediate pianists to the Impressionist language of Maurice Ravel. While living in Bloomington, Ms. DiPaolo was commissioned to create a choral arrangement of "Ride," the city of Bloomington's official bicentennial song, for the Bloomington Community Song Project. After she relocated to Cleveland, her Divertimento and Lucid Dreaming for solo harp were featured at the "She Scores" new music festival, celebrating women composers with ties to Ohio, held at Case Western Reserve University in June 2022 and rebroadcast on Mark Satola's "Cleveland Ovations" program on WCLV radio (90.3) in October. Most recently, Ms. DiPaolo's Nocturne in G-sharp minor was selected for inclusion in 22 Nocturnes for Chopin, a collection of Chopin-inspired piano compositions to be presented in recital and published by EVC Music (dist. Hal Leonard) in fall 2023. Also a sought-after composition teacher and adjudicator, Ms. DiPaolo frequently judges state, regional, and divisional MTNA composition competitions at all levels, ranging from elementary to college-level Young Artists. In her private online studio, she has recently expanded her curricular offerings to include partimento and other historical methods of teaching tonal composition and improvisation. An enthusiastic and frequent podcast guest, Ms. DiPaolo has appeared on podcasts with the Nikhil Hogan Show, Motif Music Studios, Ultimate Music Theory, and the Piano Sight Reading Community to discuss her compositions and various piano pedagogy topics.

***

I am currently accepting inquiries for piano, composition, historical composition/improvisation, and music theory lessons ***online only*** through Zoom. (Google Meet and Forte are available as backup options when Zoom will not work.) Beginners should be at least 10 years old for the online delivery format to work best, but I'll consider inquiries from academically gifted younger students with substantial previous musical experience and a willingness to work online. Students should be performing at a 5th grade + level in all academic subjects.

In addition to teaching, I'm also happy to partner with you or your child when you need a collaborative pianist for recitals, recordings, competitions, and coachings. Through my faculty pianist position at the Celebrity School of Music in Cleveland, I worked with instrumentalists as young as 6 years old. I have a home rehearsal space in northwest Nashville that is available when needed and can travel to public rehearsal spaces within reason. Travel to your home rehearsal space will incur travel fees.
Get In Touch With Me
Note: All messages are screened before they are sent to the designated member.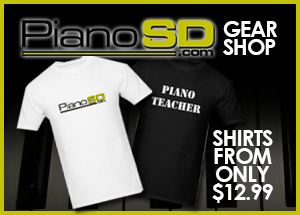 ---
---
Continue Your Search