About Us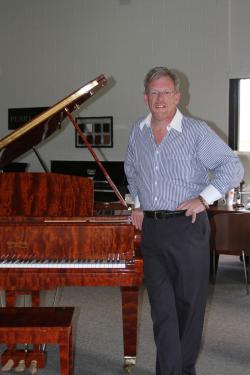 Hi, I'm Ric Overton. Everyone says that they want to know something about me. I'm not exactly sure why because I'm just a regular guy with a small possible difference. I have an incredible love for pianos and music.
I was born in 1962 on the coast of North Carolina where I grew up playing the piano in church. By age 16 I was playing professionally for gospel music quartets. I moved to Nashville, Tn. as soon as I had the opportunity because I always thought of Nashville like it was Hollywood for the music that I love. Nashville along with country music is also a Gospel music Mecca and I loved living there.
You see, I realized at an early age that I had a real passion for music and pianos in particular. My favorite group of all time was The Happy Goodman Family and Vestal Goodman was my favorite singer, in fact she still is even though she passed away several years ago. Even though gospel is my favorite music, I love classical, jazz, country okay; really I love just about every venue of music. I'm so glad that my Mom and Dad encouraged me to play the piano and exposed me to many different styles of music. My Mom played the piano and my Dad played "the radio".
I have worked in retail management for more than 20 years. One of my favorite jobs, was when I was a Regional Business Development Manager for Baldwin Piano. My territory was the southern and western regions of the United States as well as several international accounts. I had the good fortune of traveling and meeting teachers, tuners, educators, musicians, students and piano store owners all over the country.
In 2006 I moved to San Diego, California and within a year owned my own piano store which unfortunately closed in 2010. At that time I began to do some freelance work with several retailers providing enhanced digital marketing with a special emphasis on social media. I recently had a write up in a National Music Trades publication about social media and it's affect on the music business.
Today I live on the Central Coast of California and manage a small piano store in Nipomo. I continue to provide several clients with social media marketing. In my free time I enjoy going to the ocean and watching the sea lions, otters, whales and feeding the squirrels by hand.
I realized that music professionals needed a platform that could connect them with music lovers and visa versa. Piano Social Directory was created as that place Now people interested in music or wanting to learn to play the piano can connect with professionals simply and easily.